Becky Anderson in Recital!
Admission
Description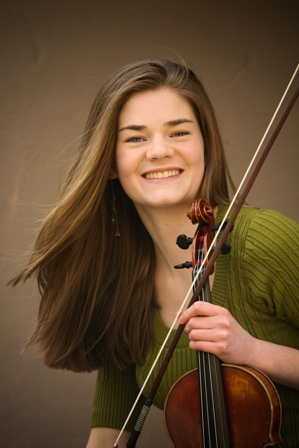 A December Delight
Enjoy an inspiring free concert from this talented CMC alum, fresh from the Curtis Institute of Music. Highly recommended for students ready to be mesmerized by a great role model. Tuesday, December 22, 2009 at 7:30 in the CMC auditorium. No admission is charged but donations will be actively encouraged to support the important work of the Center. Pianist Janet Coleman performs with Becky on the Beethoven and Chausson.
In May, 2009, Rebecca was invited to a workshop with Michael Tilson Thomas as a part of a documentary series that will be aired on HBO, and in 2007, Rebecca performed on the nationally-broadcast radio show "From the Top." Rebecca was invited to perform in the Chamber Music Northwest Summer Festival (2006) and the Amelia Island Chamber Music Festival (2009). Past summer programs include Kneisel Hall Chamber Music Festival, the Perlman Music Program, the Perlman Music Program Chamber Music Workshop, and the Quartet Program. She plays on a Vuillaume bow on generous loan from the David Kerr Violin Shop.
An accomplished and versatile pianist, Janet Coleman has been presented with recitalists in Europe, Central America, and across the United States, collaborating with hundreds of singers and instrumentalists such as Marilyn Horne, Sherrill Milnes, Janos Starker and Charles Wadsworth.
Ms. Coleman has served as coach/accompanist with the Portland Opera's Education and Outreach tours, the Eugene Opera, and the Opera Workshop programs of Linfield, Pacific, and Portland State University. Recently, she appeared in the critically acclaimed "Verdi's Defiant Requiem", a nationally televised concert/documentary.
The Community Music Center (CMC)
is a Portland Parks & Recreation facility in partnership with an all-volunteer non-profit organization that raises money to help subsidize tuition fees at the school. Benefit concerts such as this one support a need-based scholarship fund that enables students like Becky Anderson to follow their dreams in music. For more information, call 503.823.3177 or visit www.communitymusiccenter.org.
Rebecca Anderson now a student at The Curtis Institute of Music with Ida Kavafian, is an alumna of the Community Music Center. Her previous local mentors also included Kathryn Gray, Amy Schwartz-Moretti, and Clarisse Atcherson. As a soloist Anderson has performed with the Oregon Symphony, the Portland Chamber Orchestra, and the Columbia Symphony Orchestra. Recently she was invited to perform in a Chamber Music Society of Lincoln Center concert honoring Ani and Ida Kavafian. Other highlights include concerts with Itzhak Perlman, Andre Watts, David Shifrin, Andres Diaz, Roberto Diaz, Christopher Rex, and Daniel Phillips. In 2007, Rebecca performed a solo recital at the Conservatorio di Bologna in Italy sponsored by the Portland-Bologna Sister City Association and MetroArts.
Her awards include the 2008 National Foundation for Advancement in the Arts youngARTS Gold Award, which led to being named a Presidential Scholar in both the Arts and Academics and an invitation to perform at the Kennedy Center. She was also awarded the bronze medal and Bach Award at the 2008 Stulberg International String Competition and was one of three finalists selected for the 2007 American String Teachers Association National Solo Competition.